Here's a quick list of some of the Beatles autographs in this year's auction.
Lot 61 - George Harrison postcard by Starpic, signed on the reverse Estimate £500-£600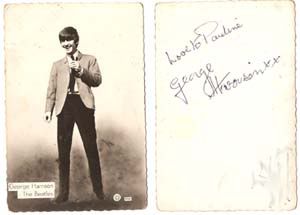 Lot 85 - Ringo Starr signature on black and white Beatles photo. Estimate £130-£150
Lot 215 - John Lennon and George Harrison signatures. Estimate £900-£1200
Lot 216 - Paul McCartney and Ringo Starr signatures. Estimate £400-£500
Lot 224 - Complete set of 1967 Beatles signatures obtained during the filming of Magical Mystery Tour at RAF West Malling. Signatures are in pencil on the back page of a 1967 diary. Estimate £1750-£2000
Lot 225 - Paul McCartney signed Beatles Monthly Magazine centre page. Obtained at the filming of Take It Away video. Estimate £275-£350
Lot 308 - John Lennon signed and inscribed card Love John Lennon and annotated with Lennon's caricature portraits of his and Yoko's smiling Faces Estimate £1200-£130
Lot 309 - The Beatles autographs in biro on reverse of paper envelope Estimate £1800-£2000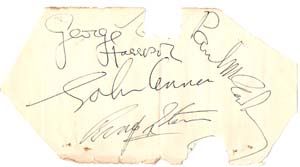 The auction includes other signed items some of which have been highlighted in this blog previously. (Use the archive links at the side to find past posts.). A full list of items in the auction will be available to download soon, and printed catalogues will be available. Details coming shortly.
---
Please see the FAQ and Buyer Notes (links in side bar) for details how to attend the auction to bid on this item, or for the details on absentee bids.
---
We have now stopped taking items in to the Auction. However if you have something you would like us to look at please use the contact details link on the sidebar.
---
Press enquiries should be made through the same contact link.
Better images of items can be made available to the press upon request.